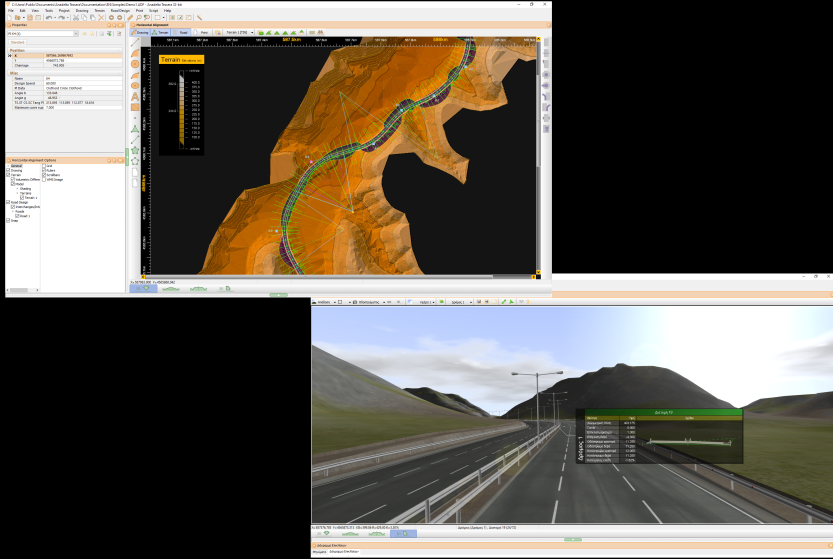 Road Design Software
Anadelta Tessera
---
The complete road design and construction software,
that offers a variety of 2D and 3D CAD features.

Download the unlimited trial version, free of charge
Multifunctional Features
It features the projects terrain and horizontal alignment, the cross sections, the vertical alignment and the 3D visualization,  all combined in the same workspace.

---
Horizontal Alignment
---
CAD environment.
Input of terrains and road design combined.
Road design using a number of transition curves.
Automatic insertion and management of intersections and interchanges.
---
---
Vertical Alignment
---
Bidirectionally connected Horizontal and Vertical alignment.
Visual drainage inspection.
Bruckner diagram calculation.
---

---
Cross Sections
---
Visual typical cross section editing, or selection from an extensive built-in library.
Batch cross section calculation, manual editing where necessary.
Automatic cross section side space expansion based on calculated visibility curves.
Fully parametric mass tables.
---

---
3D Model
---
3D environment as a native part of the Tessera CAD platform.
Quickly and easily employed at any stage of the design.
Visual as well as automatic verification of the visibility calculations.
CAD and photorealistic rendering modes.
---